Carbamide
Carbamide is the most common and most valuable nitrogen fertilizer.

Carbamide is used as a base of plant nutrition and pest control liquids. Carbamide can be found in chewing gum, flour, and even toothpaste.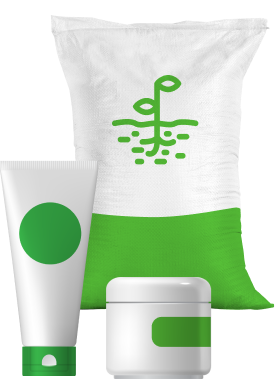 In modern industry, methanol is an indispensable product. It is used to produce hundreds of everyday products. Another purpose of methanol is the production of environmentally friendly fuel. This is why it is called the fuel of the future — it can replace oil products.
Global carbamide production
China
43%
The synthesis of carbamide (NH2)2CO can be broken up into two stages, as follows:
first, carbamic acid ammonium (carbamate) is produced via the following reaction: CO2 + 2NH3 -> NH2 – COONH4 + 150 kJ
at the second stage, the carbamate is dehydrated and carbamide is obtained: NH2 – COONH4 -> CO (NH2) 2 + H2O – 258 kJl.
Chemical processes take place in a thick-walled column. The carbamide solution is evaporated and then crystallized; the crystals are separated from the stock solution in filter equipment or granulated. After distillation, gases are dispatched for regeneration and further use for new production.
OUR APPROACH TO DESIGN AND CONSTRUCTION OF THE NAKHODKA FERTILIZER PLANT EMPLOYS THE BEST AVAILABLE TECHNOLOGIES TO ENSURE EFFICIENT PROCESSING OF RAW MATERIALS AND CYCLE USE OF RESOURCES
Such technologies are able to ensure a minimal impact on the environment.
A number of requirements are imposed on the storage of carbamide, and NFP ensures full compliance with them: closed, well-ventilated warehouses, indoor storage of fertilizer containers. Carbamide is not classified as dangerous goods under the strict regulations of the European Fertilizer Manufacturers Association (EFMA)